CMEA Mid-Winter Conference, January 1961
JOHN MARSHALL HIGH SCHOOL SYMPHONY ORCHESTRA
Morris Halford, Conductor

In January 1961, the John Marshall High School Orchestra played at the CMEA Mid-Winter Conference and won an award or a contest (though I played french horn in the orchestra, I don't remember the details). Alan Gordon, one of the violin players, still had the record and was kind enough to loan it to me so that I could digitize it. Further below are links to "mp3" files for the tracks on that recording.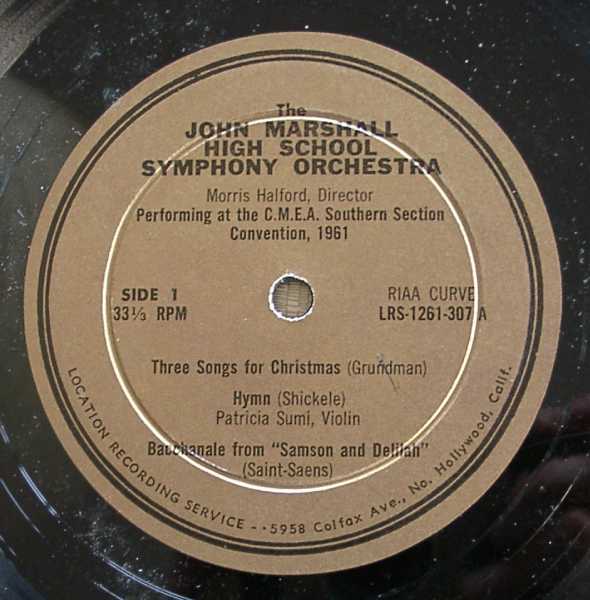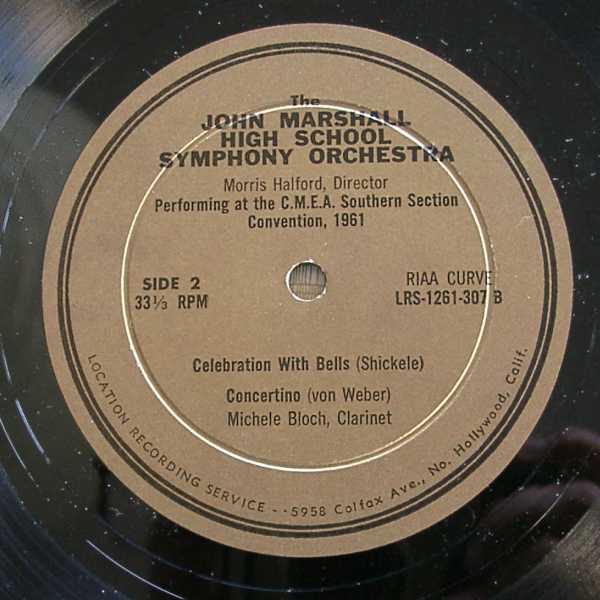 If you would like a copy of the CD that I've made, please send me an email. Click on the "email me" link on my home page at http://www.marnix.com .


MP3 files:

Bacchalane from Samson and Delilah (Saint-Saens)       [6.2Mb]
Celebration With Bells (Peter Schickele)                       [9.5Mb]
Concertino (von Weber) Michele Bloch, Clarinet        [10.6Mb]
Hymn (Peter Schickele) Patricia Sumi, violin                   [6.5Mb]
Three Songs For Christmas                              [6.5Mb]

The recording of this concert was played on KNX on new year's eve 1961.
Who was in the orchestra and where are they now?
Here is a story about the bass string breaking during the concert.


---
About Peter Schickele (sometimes incorrectly spelled as Shickele or Shikele).

The pieces by Peter Schickele were written by him expressly for our orchestra to play. I believe (but can't recall for sure) that Mr. Schickele composed "Celebration With Bells", and "Hymn" for us as part of his graduate studies. I recall that at least once during our rehearsals, Mr. Schickele conducted the orchestra.

Peter Schickele has since become quite famous. Note that Mr. Schickele's name was mispelled as "Shickele" on the record labels (and was also mispelled on this web page for quite a few years)..
---
---
Text on the cover and record labels:

-------------------------COVER-----------------------------------
                                            LOCATION
                                           RECORDING
                                             SERVICE
         CMEA

              Mid-Winter Conference

                January 1961


         MARSHALL HIGH SCHOOL ORCHESTRA

           Morris Halford, Conductor

----------------------LABEL-SIDE-1-------------------------------
                             The
                        JOHN MARSHALL
                         HIGH SCHOOL
                      SYMPHONY ORCHESTRA

                   Morris Halford, Director
            Performing at the C.M.E.A Souther Section
                     Convention, 1961

          SIDE 1                             RIAA CURVE
          33 1/3 RPM                       LRS-1261-307 A

               Three Songs for Christmas (Grundman)

                      Hymn (Shickele)
                   Patricia Sumi, Violin

              Bachanale from "Samson and Delliah"
                       (Saint-Saens)

LOCATION RECORDING SERVICE 5958 Colfax Ave., No. Hollywood, Calif
----------------------LABEL-SIDE-2-------------------------------
                             The
                        JOHN MARSHALL
                         HIGH SCHOOL
                      SYMPHONY ORCHESTRA

                   Morris Halford, Director
            Performing at the C.M.E.A Souther Section
                     Convention, 1961

          SIDE 2                             RIAA CURVE
          33 1/3 RPM                       LRS-1261-307 A

               Celebration With Bells (Shickele)

                   Concertino (von Weber)
                  Michele Bloch, Clarinet

LOCATION RECORDING SERVICE 5958 Colfax Ave., No. Hollywood, Calif
-----------------------------------------------------------------